Welcome to my CA Hwy. 168 trails page
(fun roads off of SR-168 in the High Sierra)
Visitor # 25824 since 17.SEP.2001

Be sure to check the CalTrans Highway Information page before heading out.
I'm thinking of leading on running the Dusy/Ershim trail run in early September. 2006, contact me if interested

CA-168 is the gateway to the Sierra National Forest. There is a large, well maintained Off Highway Vehicle trail network within the Sierra NF.
Click here for a map of the OHV area.
I've listed the trail descripitons below for your convenience:
Bald Mountain *

Easiest - 3.0 miles
A great beginner's route with a fantastic view from the Bald Mountain lookout tower
Optional obstacles from the south include a steep climb up a loose rocky hill
The steep cklimb up the Carburetor Hill slab
The exciting drop off Woozer Rock

Bear Diversion

Easiest - 3.0 miles
An old access road to the diversion dam, a great picnic spot.

Brewer Route

Easiest - 3.5 miles
An easy drive to a good fishing lake

Coyote Lake *

More difficult - 3.5 miles (1.5 miles beyond Red Lake)
Coyote Lake is known for its camping and fishing opportunities
Most difficult obstacle is trail entrance at Red Lake

Dusy / Ershim

Most difficult - 33.0 miles
A challenging route that follows a 600 foot wide corridor between two wilderness areas
Allow 3-5 days for this trip

Hopper

Easiest - 1.5 miles
A nice drive in a scenic area

Mirror Lake

More difficult -1.5 miles
A short, but moderately challenging drive

Onion Springs

Easiest - 5.0 miles
A rough road in a wilderness corridor

Red Lake *

More difficult - 2.0 miles
Provides access to a popular camping and fishing area
Obstacles along the fairly rocky trail are a steep, muddy stream crossing, numerous rocky climbs, a pair of squeezes between large rocks

Spanish

More difficult - 5.5 miles
Spectacular views and a short walk to good fishing

Strawberry

Easiest - 2.0 miles
Popular fishing lakes makes the drive worth it.

Swamp Lake

Most difficult - 3.5 miles
Very challenging rocky areas, great fishing at Swamp and Grouse Lakes.

West Lake *

Easiest - 1.0 mile
Popular fishing and camping area
There is a single camping are below the lake moraine that has room for 10-15 vehicles
The trail is fairly easy until the intersection with the Mirror Lake trail
There is a rocky stream crossing before the intersection and a steep drop off after it
(*) Denotes trails I have been on.
[Return to the top]

21-23.AUG.1998:
Barney McNamara (with his '83 pickup) organized a weekend of wheeling in the Sierra National Forest and was joined by Tom Boyd< in his Kayline-equipped '87 4Runner (w/ wife and son), Guy Cameron with his nearly stock '85 4Runner sporting brand new 31x10.50 BFG M/Ts and yours truly in my '85 4Runner - for once on equal HP footing with the rest of the group - no V6's!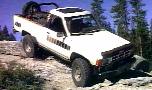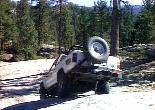 We found an isolated camping area right after the turn-off onto the Rock Creek road. Before leaving camp Saturday morning, I tested out the Marlin crawler gears on the granite slab above our camp.
A Fresno-based 4WD club was to be meeting at the Bald Mountain trailhead (their club's Adopt-A-Trail) Saturday morning so we arranged to meet them there. Brendan Houlihan, club and Toy4x4 list member met us at the arranged time. We aired down, locked up and followed the club up the trail. Bald Mountain trail is rated "easy", according to the OHV map.
The trail was fairly mellow until we got to a steep rocky climb. Several rigs had trouble climbing hte loose hill, but everyone made it. Next was "Carburetor Hill" whose steepness lent credence to its name. There is a very steep rock slab to the left which I just barely made. My rear bumper was dragging and I had to line my tires up between the dirty tracks to get better traction.

Barney's '83 pickup didn't like the steeper left line, so he tried the slightly less steep, but bumpier right line. He kept flooding out at the steepest part so I winched Barney's truck up the last ledge or two. Tom and Guy drove up the right side w/o difficulty in their EFI 4Runners. Barney's truck was also starting to overheat.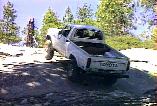 Two obstacles remained, one a steep climb followed by a steeper drop-off called Woozer Rock. Brendan made it look easy with his sticky 31x9.50 Swampers. I followed, noting my clinometer pegged above the 35 degree mark.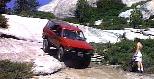 Here is Tom dropping off the step at the bottom of the rock. The last fun spot was a short sluice. The lower route was the more difficult, narrow and rocky. We stopped for a lunch break while Barney pulled his thermostat, which cured the overheating for the weekend.
We got to the top of Bald Mountain and saw this Chevy Z-71 stock p/u up there and wonderered how he made it up. Brendan then said, "Oh, he must have come up the easy way, I took you up the more interesting way!".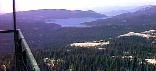 After enjoying the excellent view from the old lookout tower (reminded me of my two summers manning a lookout tower in northern Idaho). We took the road down to the Tamarack snow park, said goodbye to Brendan and then headed up with CA-108 for the trip up to the Red Lake trailhead.
After reaching the junction to Mirror Lake at a sandy meadow, we turned right onto the Red Lake trail. Right away it got steep, muddy and rocky.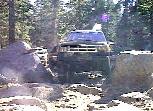 The next 1.5 miles were more of the same with a few tight squeezes thrown in. After several hours of spotting and rock stacking, we got to the lake an hour before sunset, set up camp and had dinner.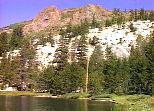 In the morning we took a walk to the other end of the lake, aptly named sitting at the base of Red Mountain. We also checked out the initial obstacle on the Coyote Lake trail. Two motorcycles went by, one rode cleanly up, the other rider walked his bike over the boulders. Then two ATVs went by with similar results. THe trail didn't look too much harder than what we had been over so far; maybe next time...

On the way out, we stopped for a group of Jeeps coming in. From right to left is my 4Runner, then Barney's pickup, Tom's 4Runner (red) and Guy's 4Runner (unfortunately this is the only shot I have of Guy on the trip).
---
[Return to the top]


[Last updated: 09.April.2019]