Prairie City Off Road Vehicle Area
Visitor # 12949 since 27.DEC.2002


Trip Notice(s):

What's there?
The park consists of 800+ acres of rolling terrain. Its open grassland with few trees in the Sierra foothills. The majority of the terrain is for motorcycle and ATV use. The 4x4 area has been expanded recently and features a circle track, stair climb, frame twister, mini-Rubicon rock crawling trail and some short but steep hill climbs. In the rainy season, there is a lot of mud.

Trip Report 02.MAY.1998:
An informal Internet group met at the park Saturday morning. Included were:
Brandon Miller, 83 Pickup
Rick Murray, 84 4Runner
My 85 4Runner
Leo Divinagracia, 90 4Runner
Ken Emanual, 87 Pickup
Hollis Ferris, 88 Pickup
Jon Brandt, 86 4Runner
Mike McKenzi, 83 Pickup w/ rear Chevy springs (pictured below)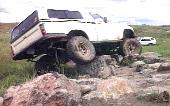 Here's Mike's truck with a trick set of Chevy pickup rear springs that looked to be very flexy. They are longer than stock on both ends and have some awesome droop capability. Also, he had a really nice looking rear bumper, made out of round tube that wrapped from wheel well to wheel well. After running the course forward, he did part of it in reverse.
Here, Brandon guides Leo through the lower section of the Rubicon obstacle. He did pretty good getting through with 31" tires.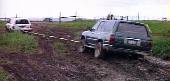 Leo dropped his right side into a muddy rut and needed a bit of a tug to get out.
The El Niño storms have produced numerous mud puddles in the park.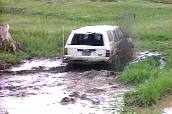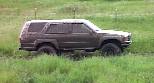 Rick decided to try one last mud puddle before leaving. He made numerous forward and back runs until finally getting though. Afterwards, his 4Runner was sporting a new paint scheme!


[Last updated: 02.April.2019]