13th Annual
Panamint Valley Days- 11/98
Visitor # 9744 since 14.NOV.2004

Matt Battaglia and crew put on an outstanding event in the desert this year. About 115 vehicles were pre-registered and many more showed up over the course of the weekend. The normally empty floor of Panamint Valley was transformed into a thriving city with a population of around 500. Terry Johnson's '89 Toyota Xtra Cab and my '85 Toyota 4Runner) ventured the 360 miles down from the Bay Area to participate in this year's event. This would be Terry's second visit (first as a driver) and my first visit.
Many runs were offered over the three day event:
Panamint City Overnight run: (Friday-Saturday)
This very rough runs for short wheelbase vehicles and has equipment requirements in addition to the normal CA4WDC safety equipment. In order to go on this run you must have pre registered and been confirmed for this run. You will be winching up waterfalls, then camping out in Panamint City ghost town. Dinner and breakfast will be provided. There is a high potential for body damage.
Jail Canyon: (Friday & Sunday)
This all vehicle run is very scenic and you will have the opportunity to explore an old mining operation. At the top of the canyons are panoramic vistas of Panamint Valley.
Lookout City Sunset Run: (Friday)
Open to all vehicles, this scenic run will take you to the Lookout City ruins high atop the Argus Range for a spectacular sunset view of the Panamint Range and Panamint Valley.
Stone Canyon: (Friday and Saturday)
This year Stone Canyon starts off mild and gets wild. It starts off in a sandy wash with small obstacles, moves on to a rocky wash with larger obstacles and ends with a series of 3 different dry waterfalls. There is a high potential for body damage.
Fish Canyon: (Saturday)
This is the 2nd annual run of this Fish Canyon area. Fish Canyon is in the Slate Range at the south end of Panamint Valley. Fish Canyon is rich in history, scenery and challenges for adventurous 4 wheelers. Stock vehicles and / or novice drivers may bypass the rock gardens in this beautiful canyon.
Historical Tour: (Saturday)
Open to all vehicles. Destination to be announced.
Jackpot Canyon : (Saturday)
This is a scenic run for all wheel base vehicles with 2 rough spots that will require lockers or a friend with a tow strap.
Pleasant Canyon: (Saturday)
This is an all vehicle run which will explore an old mining operation, and has a spectacular view of Death Valley from the top.
Wildrose Charcoal Kilns: (Sunday)
Open to all vehicles. This will be a short run to the Charcoal Kilns, Wildrose Station and other historical sites. This run will have you back to camp by lunch time.
Lookout City & Modoc Mine Historical Tour: (Sunday)
Open to all vehicles. This scenic run will take you to Lookout City and the Modoc Mine via the Old Nadeau Toll road. You will see impressive vistas of the Panamint Valley and the Argus Range at the Lookout City and Modoc Mine. Historical information will be provide along the way.

Stone Canyon:
Located towards the north end of Panamint Valley, take Minietta Road up into Stone Canyon in the Argus Range. This is a short wheelbase run, Terry topped the group at 122", a Jeep Commanche probably came in next and my 103" 4Runner was 3rd in length. An assortment of Jeeps (including a '53 CJ-3) and an FJ-40 rounded out the list.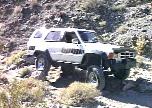 A mile or so after leaving the pavement, an optional trail can be taken to the right up through a rocky wash. Here is the first obstacle after dropping into the wash. Its a tight right hand turn over some large rocks. Short wheel base vehicles had no problem, Terry got high centered in his 122" wheelbase truck, the rear IFS crossmember was hung on the rock (just in front of my driver-front tire) and the rock my passenger-rear tire is on was wedged under his spring shackle. With my 19" shorter wheelbase and solid front axle, I made it through w/o scraping.
After passing a handful of tight rock gardens in the wash, we re-joined the main road where concrete slabs of the old mining operation are still visible. From this point on, the former road was washed out by last winter's El Nino storms. Historically, Stone Canyon has had three "waterfalls" that climb up over a hard white rock layer, numbered 1..3. Thanks to El Nino, there is a new fall, below the original ones, #0. Just getting up to the first fall is challenging on the washed out road.

At the #0 fall, there is a difficult line to the right, that this Jeep is taking. To the left is a moderate line with a tight turn which is tough for longer wheelbases. The Jeep made the fall on his second attempt. I think a few vehicles needed to be winched up this fall.
1.

2.

3.

The #1 fall is the toughest of the trail, although not the highest. Only one or two vehicles made the climb under their own power, the rest winched after two or three attempts. In the first picture, a female driver expertly pilots her Jeep over the top as the spotters cheer her on. In the second picture, an FJ-40 breaks a rear drive shaft and has to back down for a trail repair. In the third picture, a slick Jeep w/ custom air-ride suspension and 35" Boggers attempts to crawl up the rock face to no avail. He sustained some damage while being winched up and made repairs that night in camp. Another Jeep broke a rear hub. The key to this obstacle was momentum and steady speed to avoid kicking out the rock pile at the base.
After cresting the #1 waterfall, a second low fall is followed by the massive #3 waterfall. It appears about 20 feet high, but its smooth surface allows an effortless climb. At the top of the last waterfall, the trail is closed as it enters the Argus Range Wilderness Area.
1.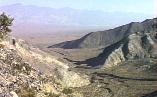 2.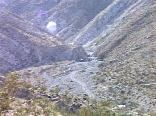 To avoid the waterfalls, the original road may be taken from this point up to the ridge line and back down into the canyon to the base of the #1 fall. At the top of the climb (4000' elevation) is a spectacular view of Panamint Valley, 3000' below. Upon rounding a switchback turn, you can watch the rest of the group trying to climb waterfall #1. On the way down waterfall #0, Terry shredded the sidewall on one of his BFG M/Ts and we replaced the tire with his spare. One stubborn lug nut succumbed to an air impact wrench after I bent a 1/2" drive extension with my ratchet.

Fish Canyon:

NOTES:
The background for this page is an image of Zabriske Point. I post-processed the image with Silicon Graphics Image Vision toolkit by running a Sobel Edge Detection filter on it, then rotated and cropped the image slightly to get the edges to tile properly.

[Last updated: 02.April.2019]