Wheel Well Splash Guards
Visitor # 17861 since 19.SEP.2001

One thing that always bothered me with the design of the front wheel well on my pickup was that the lower end of the belt driving the water pump, A/C compressor and ultimately the alternator, hangs down below the edge of the inner wheel well. It seems to be exposed to spray thrown up by the front wheels. Well, with the recent El Niño winter weather here in northern California, there was enough rain to convince me that this was indeed a problem. One particularly wet day, I pulled into the parking lot of a local store and went through a deep puddle. The water soaked the lower pulley and belt, which began to squeal and the alternator light came on. I had the defroster running (A/C compressor was therefore engaged), but turning it off did not immediately solve the problem.
I had just been doing some work on my 4WD truck to replace the stock wheel well liners with larger and heavier sheet rubber liners. This was needed because one of my stock liners was missing, another damaged, and all a bit small after doing a 1" body lift. So I bought an aftermarket set of liners and replaced what I had. After replacing the rear liners, I noticed they seemed ideal for the VW. About 30" long and 5" wide, they fit the wheel well from front to back. I bought some plastic push in studs and drilled 7 mounting holes along the lower edge of the wheel well to attach the liners. The plastic studs press into the holes.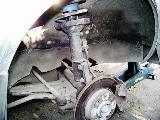 Here's the finished product. I had to notch the liner to clear the drive shaft (not seen) and also the tie rod. As you can see it extends below the lower pulley on the engine and so far I've not experienced any problem with wet belts. For completeness, I did both front wheel wells.
Cost:

  14   Plastic studs                   $2
  5'   5-6" wide plastic/rubber sheet   8
  ---------------------------------------
  Total:                              $10

Rating:

  

[
return to my Cheap Tricks page
]

[Last updated: 26.March.2021]