Caddy Tow Truck
Visitor # 31728 since 17.SEP.2001

[Return the main Cheap Tricks page]
---
Ever since I bought my '81 Caddy, I found I didn't like the rinky dink tow ball mounted on the factory step bumper. It was off-center and just didn't seem to be very functional. I ended up simply removing it, since I really didn't have a need to tow anything. Recently, it seems the market for various receiver hitch accessories has exploded. Beyond the intended use for towing, you can now get bicycle and ski carriers, luggage racks, you name it.
[Return to the top of this page...]
---
This prompted a search for a simple and inexpensive way to add a 2" hitch receiver to my Caddy. I did not want anything that hung below the rear bumper as it is too low to begin with. I didn't want to replace the bumper, so that left putting a hitch on top of the bumper step.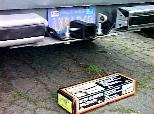 I found an ACAR #522-B-2W Step Bumper Receiver at a local auto parts warehouse for about $33. Although it is designed to mount under a step bumper, it seemed like a perfect fit to go above the step. In fact, I found that the stock 5/8" holes in the bumper step align perfectly with the mounting holes in the base. I found the only modification was to trim off the corners of the base behind the safety chain holes to fit under the license plate lights. I'll be cutting off the excess mounting bolt threads and will be painting the whole bumper step black, but wanted to take the pictures now since its easier to see. Once I get that done, I plan on making some inner bumper end caps to finish off the rear end.
[Return to the top of this page...]
---
Now that you have something to hook a trailer to, you really need a connector to make hooking up the trailer lights easier. I'll be documenting this process when I get to it.
[Return to the top of this page...]
---
There is little information available on the rated towing capacity of the VW Caddy. However, the A1 based Caddy is still being manufactured in South Africa. They refer to it as the "half-tonner Caddy". The 2000 Sport Model ( euro grill, 14" alloys, Roll Bar, Paint upgrade) can be bought for $14,000 Canadian. This information, from Vw South Africa, is for the Factory Towing Capacities:
Towing Capacity, in kg (lbs)
Trailer
w/o brakes
Trailer
w/ brakes
Tongue
weight
445 (981)
890 (1962)
75 (165)
[Return to the top of this page...]
---
So, how much does the pickup weigh and how much cargao can I haul in the bed?
The bed size is:

Length - 73"
Width - 51.5" (41.5" between the rear wheel wells)
From the 1982 VW Pickup Truck Owner's Manual:
Or in another table, the following weight specs are listed:
| | | | |
| --- | --- | --- | --- |
| Spec. (lbs/Kgs) | Front | Rear | Total |
| Curb Weight | 1407/638 | 767/348 | 2174/986 |
| Passenger + Cargo | 177/ 80 | 949/430 | 1126/511 |
| Total | 1584/718 | 1716/778 | 3300/1497 |
I've personally hauled over 1200 lbs. in the back of my '82 and it did so without a whimper: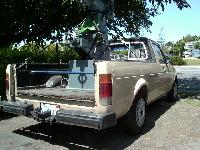 [Return to the top of this page...]

[Last updated: 26.March.2021]