Readers Rides
Visitor # 15093 since 20.APR.2004

This is the place to show off your ride! Click here if you'd like to see your Caddy added! Send me a scanned photo (JPG or GIF) and a brief description, I'll add it to my page. Please be patient while this page loads; there are lots of graphics here
---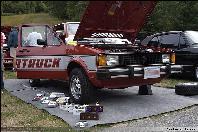 Mark Bednarz '81 Sport Truck
---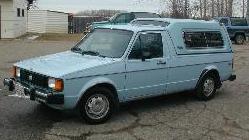 Ben Thate's Light Blue Caddy
---
Lewis Grimes has owned the '82 gold Caddy for 18+ years and recently acquired a second one
---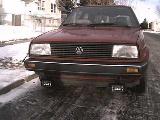 Mario has a nice 1987 Mk2 Golf Diesel and techical information web site
---
Karl has a really sweet '80 diesel Caddy, check out the custom front grill treatment:
---
Matt has a nice looking '81 diesel Rabbit
---
Kerry Driscoll has a very slick camper setup on his '81 Caddy.
---
Tom Turkey (Cedar Falls, Iowa) is in the process of building one Cool Caddy. He and his father have created a one-of-a-kind stretch Caddy. They took the rear end of an '81 pickup (Caddy) and mated it to the front end of a 2-door '84 Jetta to produce a Caddy 16" longer than stock. They are currently adding a G60 engine into it.
---
Ronny Julian has a nice looking '81 pickup, lowered and powered by a 1.8l gas engine.
---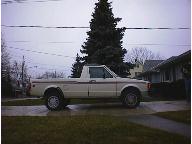 On the opposite end of the spectrum, Blake MacPherson, from Cleveland, OH., is running a lifted Caddy. He writes:
For inquiring minds this was way above 5 banana conversion. I needed to limit the suspension travel in the front, when ya jump it, or even jack it up, or else the right side driveshaft will rub the front control arm mount. And the driver's side inner cv boot will tear, too. I fabbed up a bar out of C-channel that mounts under the control arm mounts. I welded brackets to the inside of the front control arm mount. The back lift is easy, use (longer spring) shackles and blocks. Oh yea, i used jetta gli front springs, and cut the spring perches ,and relocated them up 2 inches, for more lift. I added 195-70-14 firestones, theyll do till i find a nice mudder in 14 in wheels. Oh yea, and my custom"team hillfolk racing" sticker.
---
[back to the top]

[Last updated: 26.March.2021]