Back
SDORI at the Two Trackers Forest Clean Up in Twin Lake Michigan.
04/19/09 - Like all four wheelers I know, SDORI supports responsible off roading and really despises trash on the trail. A few weeks ago while browsing a local forum we ran across an invitation to the Two Trackers 11th Annual Forest Clean Up and jumped on the chance to go. The event itself took place Saturday April 18th. Due to the distance we drove up Friday night and headed home Sunday morning. I'm very glad we went and can't wait to do it again. My only personal regret is running out of space to carry more garbage.
As mentioned our little trip began Friday night after work. Between trying to get packed/loaded up and traffic on I80 Ginger (the dog) and I didn't get to our little motel in Whitehall until around 11PM. Ginger gets some crazy eyes from the camera flash.
The next morning we got up at 5:30AM and were having breakfast at the Steak and Egger off of Holton at 6:30AM. Man that place will not leave you hungry! We were both a bit tired but excited for the day.
We are very serious about pickup some trash. You can tell by the look on Ginger's face, that's a serious dog. Or, maybe she's just tired.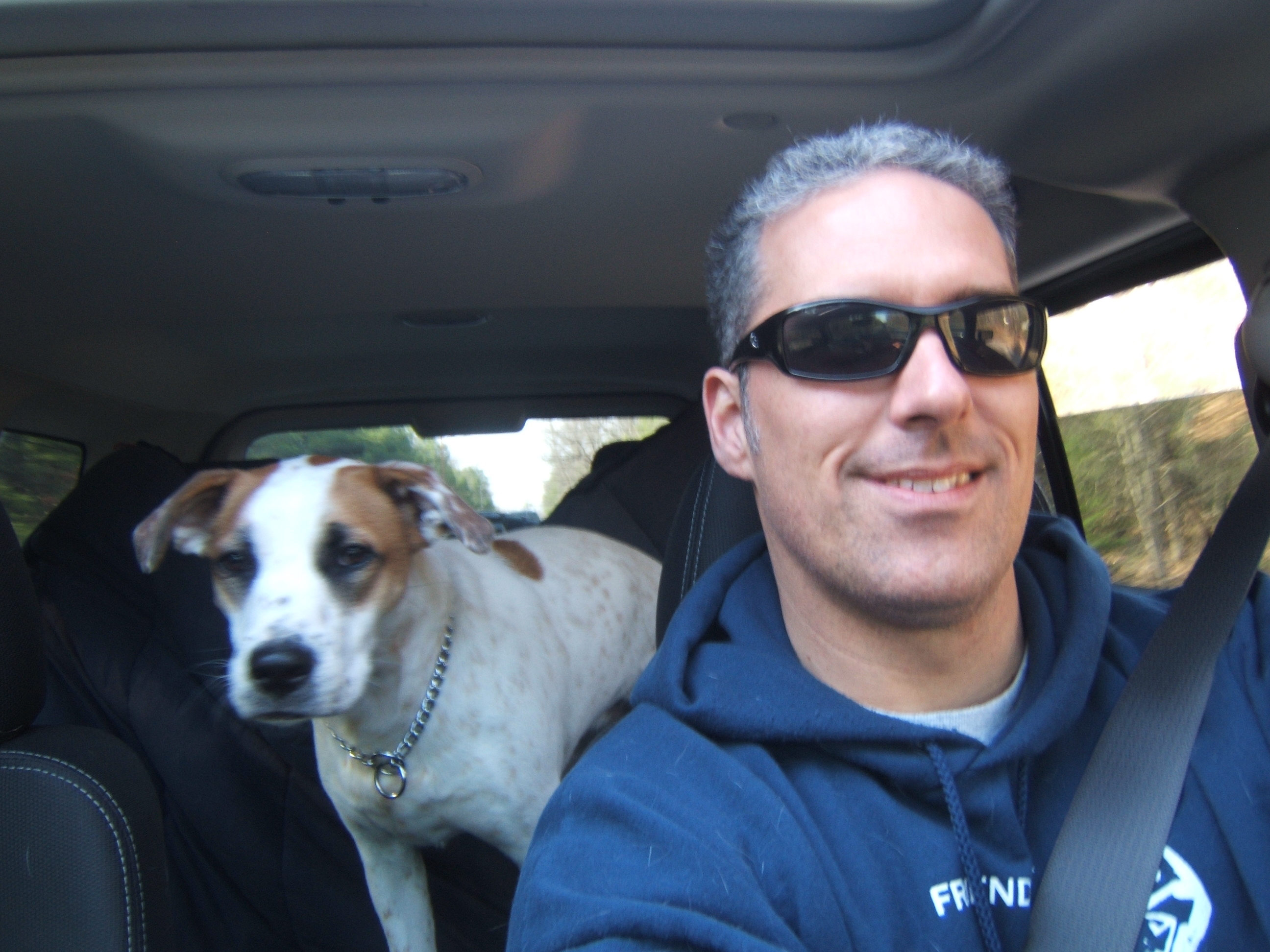 I gotta tell ya', people in the mid west are nice and easy going. When waiting for registration I found myself talking with a small group of people from the area. . They were dog people and so Ginger took to them right away. They frequented the same forum so we got to put some faces to our forum names. By a stroke of good luck, I ended up assigned to the same area they did. In fact, we were the only ones assigned to that area making for a total of 3 vehicles and 7 people. Now I am a very directionally challenged person and my usual copilot (wife) was in San Diego for a wedding. That I was able to team up with with a group of cool people who knew their way around was most excellent. It just couldn't have turned out better.
We meandered our way through the forest picking up trash and jumping out of the cars to scout up some of the smaller two track trails. It seems those little trails that take you a short distance away from the more used trail are where people like to dump their trash. As we moved on our trailers got more and more full.
There were two spots that we wanted to visit. Part of our group has spotted two really messy areas earlier in the year. One of them had been cleaned up which was good but the other was still their and bad. Essentially this small ravine was being used as a dump.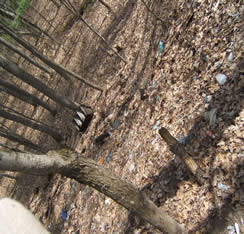 Our trailers couldn't have held all of this even if they were empty. We decided to take as much of the largest/heaviest stuff that we could and return for the rest, hopefully with some more help.
We went to our dumpster site to unload and get some lunch. We relayed our find to the organizers to see if we could round up a small army to finish the job. It turns out we weren't the only ones to find an illegal dump site like this. As a result, all of the other event dumpsters were full and ours was filling quick. After we and others unloaded, our dumpster had all it could hold. That nasty vein of trash in the woods will be one of the first places we hit up next time. Below are some pictures of the trash at our dumpster. I think there was 4 or 5 more sites like it for the volunteers to unload. The organizers had lost count at like 95 tires in total.
It's appalling yet amazing at the same time to think how many people drove out of their way to throw this much trash into the forest. It feels good to be part of the solution.
I think it's worth noting for those who might read this, and are not actively part of the off road community, that what you see here is not careless dumping of trash by off road enthusiasts. This is targeted illegal dumping. The four wheel drive community came together this day to remove this mess because like you they care. They didn't leave this trash out there but they chipped in and picked it up anyway. That's one more way someone can make a difference.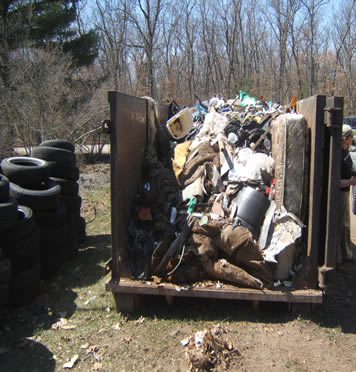 After we were done here we all headed off to the rendezvous place for hot dogs.
From here, my friends from the GL4X4 forum invited Ginger and I to one of their houses at the beach for steaks and beers. I have never seen Michigan's west coast. I have been to New Buffalo and also up to the Upper Peninsula on Lake Superior, but this is in between the two on Lake Michigan. Let me tell you, seeing water when you can't see land on the other side is therapeutic to transplanted San Diegan. The beach was completely empty and Ginger got to run until her heart was content. She even overcame her distaste for water.