Toyota Drive Shaft Spacers
Fits many Pickup, 4Runner, Tacoma, Tundra, Landcruiser models
also may fit Mitsubishi Montero, Pajero, MityMax and Dodge D50 pickups.
a division of Visual Diagnostics LLC

[Return to the 4Crawler Offroad main page... ]
---
On the Toyota 4WD Pickup, 4Runner and Land Cruiser model, the front and rear drive shaft bolt to "companion" flanges on the transfer case with a mating flange on the drive shaft (Propeller Shaft in "Toyota-speak"). On the 2WD pickups, the drive shaft typically slides into a slip yoke output on the transmission and bolts to the rear differential with a flange. Up until now, the only way to make a drive shaft longer was to remove it and have a drive line shop cut the existing tubing off the drive shaft and weld on a new length of tubing. If you needed a significant change in length, this was not so bad to do. But often, you only needed to lengthen the shaft a small amount, from 3/4" to 1-1/2" for example. Since you had pay for a whole new length of drive shaft tubing (plus the labor to install it) and not just the additional inch or so of additional tubing, it could cost hundreds of dollars to have a shaft lengthened, even a short amount. On the other hand, shortening a shaft is typically less expensive, since you can simply separate one end from the shaft tubing, cut the remaining shaft down and re-weld the end back on.
What are some indications that your drive shaft is too short?
One obvious indication is that the slip yoke on the drive shaft pulls apart as the suspension drops away from the vehicle. This is typical of front drive shafts, especially with a leaf sprung front axle with rear-mounted spring shackles, as is common on solid axle Toyota min-trucks (both factory and solid axle swaps).
Another less obvious indication is that the slip yoke is not engaged far enough and thus it causes some vibration. An easy way to check for this condition is to grasp the center section of the drive shaft near the slip yoke and give it a good tug side-side. If you feel any play in that slip yoke, you may have too little spline engagement inside (or the slip yoke may be out of grease or even worn out).
And you may be doing a transmission swap, such as from an automatic to a manual transmission, and that new transmission/transfer case stack length is shorter or longer that it was before. This can cause one of the two drive shafts to be too short.
Ideally, you only want just a little more slip yoke compression travel than needed by the change in drive shaft length as the suspension fully compresses. How much is that? It is hard to give an exact answer, as every vehicle is different. Generally a rear drive shaft needs less slip yoke travel than a front drive shaft. A longer drive shaft generally needs less slip yoke travel than a shorter one. A drive shaft that is at a flatter angle will generally need less travel than one at a steeper angle.
So how do you determine how much slip yoke travel you need on your vehicle?
Ideally, you would have measured your drive shaft angles and lengths prior to modifying your truck so you would know how it was set up from the factory.

Lacking those measurements, find a similar model vehicle in stock form and see if you can get a measurement of the drive shaft length.
Or, try posting on a vehicle-specific web forum and see if anyone there has either a similar vehicle and modification that has used a driveshaft spacer or has lengthened their shaft and find out what dimension they used. Or lacking that, see if someone with a closer to stock vehicle can measure the shaft length for you.

You might be able to see the wear marks on your driveshaft where it used to run before you modified the truck, assuming the slip yokes are exposed..

When using wear marks, you may see multiple different sections on the exposed slip yoke splines (if visible), so try to identify where the maximum compression of the original shaft was (should be a marked transition from dirty to somewhat clean splines), then where it normally ran (possibly a shinier/smoother section of splines), then the current maximum compression mark and of course the normal running position will be inside the slip yoke. So be sure to measure between similar marks, i.e. original vs. new max. compression and not new normal position to original max. compression.
On a 2WD with the slip yoke inside the transmission, you probably won't be able to use this technique.

You might try driving some place where you can go over some bumps to get the rear (or front) end to compress fully. Then hop out and examine the cleared portion of the drive shaft slip yoke and mark or measure the amount of compression observed.

Often, you can see where the slip yoke is cleaner than the remainder due to the shaft compressing to that point and clearing the old grease and dirt away.

You could take some careful measurements of the shaft length and height on each end then use that to draw out a triangle, with the shaft on the hypotenuse of the triangle. Then measure how far your suspension can compress from the static ride height and use that to create a new triangle with the shorter height due to the suspension compression. Then solve for the length change of the drive shaft.

Here's a really handy Java applet for calculating triangle side lengths and angles, or feel free to dust off your old high school geometry book :)
Alternately, if you had measurements of the ride height before the lift or know the exact lift height and current ride height, you can figure out the shaft length change. For example with the above application, using the "2 sides and included angle" solver, here are some example dimensions to illustrate how to use that information to determine a length change.

So assume you have 48" horizontal separation between the ends of the drive shaft. Then assume a vertical separation of 12" (simply measure the height of both ends off the ground and subtract the two heights). Then plug "48" into "side AC", "12" into "side AB" and "90" into "angle BAC" (note 90 degrees is a right angle). Then note that "side BC" is equal to ~49.5". Then lets assume the truck has a simple 3" lift block between the spring and axle, so before that 3" tall block was there, you instead had a 9" vertical separation. So in the triangle solver, plug in "9" in place of "12" and note that "side BAC" is now ~48.8", or about 0.7" less, meaning the shaft has pulled out about 0.7" due to the 3" lift blocks. In this case, a 3/4" spacer would be about the right size to restore the stock shaft length.

Note that your truck's dimensions will likely be different than this, so be sure and use the dimensions measured off YOUR truck and not the numbers in this made up example. We just included some sample numbers to show you what to measure and where to plug the numbers into the solver and how to extract and analyze the results.

Aside from the above, you should probably have 1" to 1-1/2" of rear shaft slip yoke compression length. Up front, you'll probably need 2" or more of slip yoke compression travel, depending on your suspension travel, where the spring shackles are located, etc.
Generally having too much slip yoke compression travel is better than not enough. Whatever you do, you do not want the drive shaft to "bottom out", as that can cause severe damage to the transfer case, as it will take the brunt of the impact should the slip yoke compress fully. But if you have so much slip yoke pull apart that it separates or vibrates is no good either.
There is one situation where a drive shaft spacer may not be an option and that is where a short drive shaft is already running at an extreme angle and/or the joints are near their maximum operating angle. Since installing a spacer effectively shortens the distance between the ends of the shaft (that is how the spacer makes a too short shaft fit), it also will make the angles increase. Normally this is not a big issue on a longer shaft, but on a short shaft where you are already running at the maximum joint angles, the angle change of the spacer may be too much to accommodate. In this case physically lengthening the shaft is the better, albeit more expensive, option.
Until now there has only been one solution, that is to have the shaft physically lengthened at considerable expense. But now available for the Toyota 2WD and 4WD pickup, 4Runner, Tacoma and FJ-series Landcruiser models are some simple bolt-on spacers that fit many of the common drive shaft bolt patterns and typical applications listed below. The bolt pattern dimensions are illustrated in this sketch. The three dimensions you'll need to determine the bolt pattern are labeled "X", "Y", and "Z". X and Y represent the center-center spacing of the pattern on each side while Z is the size of the bolt that goes through the flange, typically 8mm, 10mm or 11mm. Note that the actual holes in the flange are typically slightly oversized, so if you measure 10.2mm hole diameter, that implies a 10mm bolt.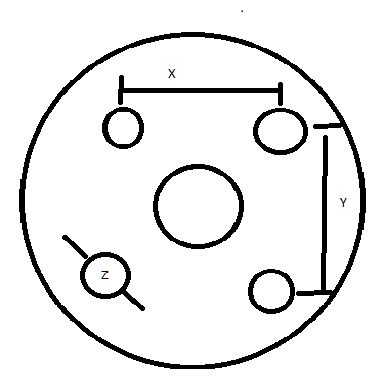 The spacers are machined from billet T-6061 aluminum and are 107.5mm or 127mm in diameter (does not need to match the outer diameter of the transfer case or pinion flange exactly) and include 4 - 8mm, 10 mm or 11mm metric grade 12.9 mounting bolts and class 10 lock nuts to replace the stock mounting bolts. These spacers may fit other Toyota drive shaft flanges and feature a male locating ring on one side (3mm high) and a corresponding female recess (4.5mm deep) on the back side (both approx. 46mm in diameter) to fit the corresponding ring and recess on the stock drive shaft and companion flanges. To check what drive shaft flange bolt hole spacing will work on your truck, measure the center-center bolt hole spacing and compare to the above dimensions and see if you match up with one of the above bolt hole patterns,
When measuring the bolt hole patterns, it might help to imagine a square (or rectangle) formed by the 4 bolt holes in the flange. The corners of the square (or rectangle) will fall upon the center of the bolt holes and it is the width (and length) of that square (or rectangle) that define the bolt hole pattern. For example, if you drew a 60mm x 60mm square then drilled a hole at each corner of that square, you would end up with a 60mm x 60mm bolt hole pattern. This is contrasted to a Bolt Circle Diameter (BCD) measurement which is commonly used on measuring wheel stud locations. For example, a Toyota 6-lug wheel BCD is 6 on 5.5", meaning 6 holes equally spaced around a 5.5" diameter circle. The problem with BCD is that it assumes the bolt holes are equally spaced and while it would work with the square bolt patterns, it does not work for the rectangular patterns as you can't specify where the bolt holes are located along the bolt circle.
The information regarding years vs. bolt hole patterns is typical, but be advised that a previous owner of your vehicle may have swapped in drive line parts from another year vehicle. Also note that this table is by no means to be taken verbatim, that is when we list a given vehicle as using a given pattern, that only means that we have received feedback that a given spacer fit a given vehicle or that we have measured a given bolt pattern on a given vehicle. But if someone purchases a certain spacer and we never hear back, we have no idea what vehicle the spacer was installed on. So about all that can be said is that your vehicle will likely have one (or likely more) of the above bolt patterns:

So it is always advisable to measure what you have to be sure and get a spacer that will fit your vehicle.
Also, front and rear drive shaft bolt patterns may be different, so measure the one you intend to install the spacer on.
Each end of each drive shaft may have a different bolt hole pattern, so be sure to measure the end of the drive shaft that you intend to put the spacer on.
Realize that the information in the above table does not mean that the listed bolt pattern is THE ONLY bolt pattern used on a given vehicle.

Rather, it lists where that given bolt pattern was introduced and is typically used, but there may be other bolt pattern(s) present on a given vehicle.
So for example, on the newer Tacoma and 4Runner models, they MIGHT have one or more 65mm x 65mm pattern flanges, but they also might have one of the earlier u-joint or CV joint patterns as well and in fact they might not have any flanges in the 65mm x 65mm pattern.

You might be tempted to use information posted on-line about what someone else used on their truck. But in the end, what matters is what bolt hole pattern you have on your truck and not what bolt pattern someone else has.

Bolt hole spacing is measured from adjacent bolt hole center to bolt hole center.

On square patterns, both sides will of course measure the same.
On the rectangular patterns, there will be a long and short side.
Note, these are not diagonal or bolt hole circle dimensions (like you find on wheels):

Basically think of the length and width of the square/rectangle formed by the bolt hole centers.
And if it is easier, you can measure from leading edge to leading edge of the holes instead of the centers.

Just don't make the mistake of measuring from the leading edge of one hole to the trailing edge of the other, since that will give inaccurate readings.
For example on the 60mm x 60mm pattern, if you measured from the leading edge of one hole to the trailing edge of the adjacent hole, you would have 60mm + 10mm (the size of the bolt hole) or 70mm total.

The standard triple-drilled spacers directly fit the bolt patterns listed in RED in the table above.
(*) For the '79-'83 pickup rear drive shafts (that use a 60mm x 60mm x 8mm bolt pattern) there are several options available:

The first option is to re-drill the transfer case and drive shaft flange holes to 10mm to accommodate the larger, late-model 10mm bolts.

Simply order the regular spacer in the thickness desired.

(**) For the '79-'83 pickup rear drive shafts (that use a 56mm x 64mm x 8mm or 9mm bolt pattern) there are several options available:

The first option is to order an un-drilled spacer and then drill the spacer to match the flange on the drive shaft.

If this option is chosen, you'll be getting the 10mm hardware, so plan on drilling out the flanges to fit the 10mm bolts.

For the 8mm bolts, another option is to order sleeves to step down the spacer hole size from 10mm to 8mm. They cost $15.00 for a set of 4.

In addition, 8mm bolts and nuts are available for a cost of $15.00 for the set of 4 alone, or $10.00 additional in place of the standard 10mm hardware.
So, for a spacer with 10mm holes, a set of 4 - 10mm/8mm sleeves and 8mm hardware (in place of the 10mm hardware), add $25.00 to the cost of the desired spacer. See below for 8mm hardware add-on ordering options. Allow approx. 1 week extra time for the sleeves and hardware as they are special order items.

'79-'83 front shafts typically use a CV joint, usually with one of the triple-drilled bolt hole patterns, but possibly with an 8mm bolt, vs. the 10mm bolt. So the above options apply to front shaft spacers; that is drill a blank spacer, drill out your flanges for 10mm bolts or order smaller bolts and 8mm/10mm sleeves.
Note: The 10mm flange bolts typically have a 14mm head (i.e. size of wrench needed to fit the bolt), while the smaller bolts will have a smaller bolt head, on the order of 12mm..

(***) Some Tacoma pickups use a 65mm square bolt pattern on the CV joint.

Please be sure to measure the bolt hole spacing of the flange you intend to put the spacer on as the front and rear flanges may be different.
Also note that on rear 2-piece drive shafts, the flange off the carrier bearing will likely be a different pattern than the transfer case flange, usually something like 60mm x 60mm, so be sure to check the bolt pattern on the flange you wish to install the spacer before ordering!
This same bolt pattern may also be used on some 3rd generation 4Runner on the pinion flange and again the pattern on the pinion/axle end of the drive shaft is likely a different pattern than on the transfer case end. So be sure to know which pattern you have on the end of the shaft that you intend to put the spacer on prior to ordering.
And since many of these vehicles also use a 60mm x 60mm bolt hole pattern on some flanges, we've updated this spacer with slotted holes that fits both the 60mm and 65mm bolt patterns for a wider range of fitment.
Some Tundra and Tacoma pickups also use this same bolt pattern including the 2WD pickups

On the 2WD pickups (Tundra and Tacoma), this bolt pattern is present on the pinion flange, which is where the spacer is installed since the upper end of the shaft slips into the tail housing of the transmission.
Some Tundra pickups use an oversized flange that is over 125mm (5") in diameter with about a 90mm x 90mm (3.5") bolt pattern. These spacers will not fit that oversized flange, so best to measure the size of the flange that is on your truck prior to ordering!

(****) For the older FJ/HJ/BJ Landcruisers, the 56mm x 64mm x 10mm bolt pattern is likely but one of many bolt patterns.

We place this bolt pattern on a double-drilled spacer that also includes the above slotted hole pattern.
This is but one pattern we are aware of.
The FJ-40s may also use the 61.5mm x 70mm x 10mm bolt pattern that is included in the triple-drilled spacers.
So again, please measure what bolt pattern your truck uses prior to ordering. Because Toyota does not go by our table on what drive shaft pattern goes on what vehicle. We only know what patterns are used based upon what our customers have told us that they have found on their vehicles. So the bolt pattern that your truck has is what it has.

The FJ-80 and LX-450 models with the high pinion 8" front differential often use the basic 60mm x 60mm bolt pattern.

Of course the same applies to solid front axle applications that use the FJ-80 high pinion front differential.

(*****) New mega-size spacers for some of the 11mm bolt flanges.

Includes the larger 66mm x 66mm x 11mm and 77mm x 77mm x 11mm bolt patterns available.
Take care in measuring as the 65mm x 65mm x 10mm pattern is very close in size to the 66mm x 66mm x 11mm pattern, the big difference will be the flange bolts. The 10mm and 11mm bolts often have "11" stamped on the heads and the wrenching size is the same 14mm head/nut on the 10mm and 11mm factory hardware. Also, these flanges are often in the 4.5" - 5" outer diameter size. Aside from careful measuring of the bolt pattern spacing, you can usually get a pair of calipers on the exposed end of the bolt sticking out past the nut. The end of the bolt is slightly tapered, but the 11mm bolt will measure about 10.6mm in dia. while the 10mm bolt will measure something like 9.6mm in dia. If you actually remove a bolt and check, the unthreaded shank will measure out quite close to the 10mm or 11mm measurement.
If you are sure you have 11mm bolts, order the larger 66mm x 66mm x 11mm spacer.
If you are not sure of your measurements, (it can be difficult to get accurate measurements in the confined space of the installed drive shaft), you can use the 65mm x 65mm x 10mm spacer with the 66mm x 66mm x 11mm flange. How can this be? Well, the holes in the spacer are drilled about 0.5mm oversized as are the holes in the factory flanges. The difference between the 65mm and 66mm bolt patterns are 0.5mm wider on each half, so with the bolt hole sizes, there is enough overlap to fit a 10mm bolt through all the holes. The reverse is not true, however. That is if you actually have a flange with 10mm bolts, the 11mm bolts will not fit in the 10mm hole.
Note that there are some Tundra models that use an even larger bolt pattern, perhaps 88mm x 88mm with about a 6"/150mm dia. flange.

The 66x66 / 77x77 spacer will not fit that larger flange, so BE SURE TO MEASURE FIRST BEFORE ORDERING.
One option for the 88mm x 88mm bolt pattern is that we can slot out the 77mm bolt holes 10mm out to the edge of the spacer to allow the spacer to be used in an 88mm bolt pattern flange (click for an image). The flange OD will be somewaht smaller than the flage OD if that matters to you. This modification will cost $30.00 on top of the cost of the spacer and the modified spacer will not be returnable after purchase. If interested in this modification, contact us prior to ordering: mailto:sales@4Crawler.com

Some Toyota models make use of studs instead of nuts and bolts to attach the drive shaft (or companion) flanges together.

There seem to be two versions of studs used by Toyota, so it's important to find out what type your vehicle has:

Pressed in studs in a thinner flange will have a sort of rounded head on the back side of the flange.

If this is the case, you'll need to be able to remove the existing studs (they'll be too short with the spacer) and then replace the studs with bolts.
You'll need to ensure there's enough room to install either the supplied bolt or nut behind the flange the studs were attached to (approx 1/2" for the nut).
You may also need to drill out the holes the studs were in, if they're undersized for the studs, in order to fit the bolts.

Threaded in studs in a thicker flange:

These studs will often have a small hex head on the end that allows them to be unscrewed.
In this case, we can supply spacer bolts that have eitehr M10x1.25 or M11x1.25 thread to screw into the threaded flange.
Note this in the "Special Instructions to Seller" link on the 2nd ordering screen, let us know approx. how thick the flange is so we can size the bolts accordingly.

If you are unable to do this, you'll either need to locate longer studs to install the spacer or you'll need to counter sink holes in the spacer to make use of the existing studs and then drill and tap a second set of holes in the spacer to fit threaded studs into to attach the drive shaft flange to.
Or if that is not an option for you, you'll need to have your drive shaft lengthened at a drive line shop.

Also available are un-drilled spacers.

If the above bolt hole patterns do not fit your requirements, you can purchase an un-drilled spacer then drill it to fit your drive shaft flange. This would be applicable for the 1st gen 4WD pickups which use the smaller 8mm drive shaft bolts or for some of the later model Toyotas that use a pattern different than above.

For the 8mm or 12mm bolt applications, a hardware kit is available for $10.00 additional.

These spacers will also work with the FJ-40 and FJ-60 Land Cruisers, after marking and drilling the blank spacer to match the drive shaft flange bolt pattern.

These vehicles typically use an 11mm flange bolt (~7/16").

It seems the Mitsubishi Montero/Pajero and Dodge Rodeo vehicles use a similar drive shaft flange design as Toyota and these undrilled spacers will work for that application.

Of course, Mitsubishi likely uses different bolt hole patterns than Toyota, so you'll need to drill the undrilled spacer to match your specific bolt pattern. This is easily done using your existing bolt flange as a templete to mark the holes then drill the aluminum spacer in a drill press to match.

The undrilled spacers work well for the Mitsubishi Montero, Pajero and MityMax pickups and likely the Dodge D50 pickups:

These vehicles use the same flange dimensions as the Toyota but have varying bolt hole patterns.
Order the undrilled spacer and then use your drive shaft flange as a drill guide for drilling the spacer.

Another application for the un-drilled spacers is if you want to fabricate an adapter to mate one sort of drive shaft flange to another sort of t-case or pinion flange.

For this application, you would drill one side of the spacer for each pattern, rotating the flange ~45° in between to offset the two sets of holes.
Then, tap the holes for a threaded stud or countersink the holes for a pressed-in through-bolt or stud and then insert studs, 4 facing one side and 4 facing the other side.
Then you can bolt the spacer/adapter to the t-case or pinion flange with one set of studs/nuts and then attach the drive shaft flange with the other set of studs/nuts.

And what if you need more than 1.5" of additional drive shaft length? Of course, the "best" option is to have the shaft lengthened, but that is also fairly expensive.

While you really do not want to "stack" spacers, there is no rule that says you can't put one on each end of the drive shaft.
After all, the shaft has 2 ends and unless you have a 2WD with the upper slip yoke connection, you'll have a flange at both ends of the shaft.
With the available bolt patterns, you should be able to find a spacer to fit on each end.

On most 2WD models, you have to put the spacer at the pinion flange at the rear differential, since the transmission end of the drive shaft is typically a slip yoke.

Note, bolt sizes are in reference to the shank or size hole the bolt fits into. Typical "wrenching" sizes below:

8mm shank = 12mm wrench
10mm shank = 14mm wrench
11mm shank = 14 mm wrench.
So, what makes these spacers different? Well, we were one of the first companies offering a Toyota-specific drive shaft spacer. In designing our spacers, we studied the market and picked the most popular set of drive shaft flange bolt patterns to support. As such, we offer the widest variety of patterns and spacer sizes available on the market. We also offer blank, un-drilled spacers for those cases where you may have a unique pattern or application. And over the years, we have increased our product offering by adding the newer 65mm x 65mm pattern as well as the older 56mm x 64mm pattern to support those applications as well.

Also, we only use real metric bolts, unlike some of the other spacers out there, which use undersized SAE hardware. Also, we use grade 12.9 hardware, meeting or exceeding the specs. of the factory grade 11 hardware. And also, we list the exact bolt patterns of each of the spacers, so you can check which one meets your needs before you order. Since there is such a wide range of bolt patterns that have been used over the years on a wide variety of vehicles, it is hard to list a spacer that fits any given year/model vehicle. Also, with the popularity and ease of swapping parts from one vehicle to another, you may have a 'XX 4Runner with a transfer case from a 'YY pickup and a drive shaft from a 'ZZ Tacoma, and deciding what "year" your vehicle is for purposes of selecting a spacer for is pointless.

[Return to the top of this page]
---
Order a drive shaft spacer below:
In-stock spacers (as listed below), typically ship within 24 hours via USPS Priority Mail, typical delivery time as noted:
2-3 days US

US$7.00 Priority Mail postage
Upgrade to Express 1-2 day US shipping with the shipping upgrade button below:

6-10 days international

US$33.00 Priority Mail International postage
Upgrade to Express/EMS 3-5 day insured and fully trackable international shipping with the shipping upgrade button below if you are the type of person who is concerned by inability to track a shipment or who is concerned about loss or damage in transit.
Want the spacers shipped faster?

| | |
| --- | --- |
| | |
| Express Delivery upgrade; US$15.00 for US shipments | Express Delivery upgrade; US$27.00 for international shipments |
| | |
| --- | --- |
| | |
| Add 8mm nut/bolt upgrade to spacer order | Add 8mm hardware+sleeves to existing spacer order |
[Return to the top of this page]
---
The triple-drilled spacers provide 3 popular flange bolt hole patterns in a single spacer. This is an advantage in that many vehicles that use any of these 3 bolt hole patterns often use one or more of the other patterns as well. We have had customers who intended to install a spacer on one drive shaft flange but for one reason or another, had to move the spacer to another flange with a different pattern. By having multiple patterns in one spacer, you can usually make that swap without having to exchange one pattern spacer for another. And to be clear, this spacer will fit any one of the 3 patterns listed above at one time. One pattern is drilled at a 0 degree offset. The second pattern is rotated approximately 30 degrees from the first pattern and likewise, the third pattern is offset approximately 60 degrees.
0.75" Spacer
1.00" Spacer
1.25" Spacer
1.50" Spacer


US Delivery


US Delivery


US Delivery


US Delivery


International Delivery;
- not insured


International Delivery
- not insured


International Delivery
- not insured


International Delivery
- not insured
[Return to the top of this page]
---
Also fits 60mm x 60mm bolt pattern via elongated holes.
Inventory:

Size--------Part Number---Status
0.75"/19mm - DSpcr65_0.75 - In-stock
1.00"/25mm - DSpcr65_1.00 - Out-of-stock
1.25"/32mm - DSpcr65_1.25 - In-stock
1.50"/38mm - DSpcr65_1.50 - In-stock
0.75" Spacer/65mm; US$65.00
1.00" Spacer/65mm; US$68.00
1.25" Spacer/65mm; US$71.00
1.50" Spacer/65mm; US$74.00


US Delivery


US Delivery


US Delivery


US Delivery


International Delivery
- not insured


International Delivery
- not insured


International Delivery
- not insured


International Delivery
- not insured
[Return to the top of this page]
---
Inventory:

Size--------Part Number-----Status
0.75"/19mm - DSpcr_56x64_0.75 - In-stock
1.00"/25mm - DSpcr_56x64_1.00 - In-stock
1.25"/32mm - DSpcr_56x64_1.25 - In-stock
1.50"/38mm - DSpcr_56x64_1.50 - In-stock
0.75" Spacer/56mm x 64mm; US$65.00
1.00" Spacer/56mm x 64mm; US$68.00
1.25" Spacer/56mm x 64mm; US$71.00
1.50" Spacer/56mm x 64mm; US$74.00


US Delivery


US Delivery


US Delivery


US Delivery


International Delivery
- not insured


International Delivery
- not insured


International Delivery
- not insured


International Delivery;
- not insured
[Return to the top of this page]
---
These spacers are the perfect solution for a custom application, you can drill them to match your driveshaft flange. Also as another option, you can use these spacers to make a bolt pattern conversion by drilling and tapping bolt holes in one side for one pattern and then offsetting and drilling/tapping a 2nd set of holes for a 2nd bolt pattern on the opposite side. You could also install threaded studs in place of bolts if that suits your application.
Inventory:

Size--------Part Number----Status
0.75"/19mm - DSpcrBlnk_0.75 - In-stock
1.00"/25mm - DSpcrBlnk_1.00 - In-stock
1.25"/32mm - DSpcrBlnk_1.25 - In-stock
1.50"/38mm - DSpcrBlnk_1.50 - In-stock
Un-drilled spacers will come with 10mm metric hardware unless otherwise specified.
0.75" Spacer/un-drilled; US$65.00
1.00" Spacer/un-drilled; US$68.00
1.25" Spacer/un-drilled; US$71.00
1.50" Spacer/un-drilled; US$74.00


US Delivery


US Delivery


US Delivery


US Delivery


International Delivery
- not insured


International Delivery
- not insured


International Delivery
- not insured


International Delivery
- not insured
Notes:
Your order will be shipped via Priority Mail for domestic (US addresses, including APO/FPO) with a delivery tracking number provided at time of shipment.

2-3 days delivery time typical, expedited shipping available at an additional cost.

International orders will be shipped via US Priority Mail International by default

6-10 days delivery time typical, expedited shipping available at an additional cost.

Unused parts may be returned for a refund, less the cost of postage on the original shipment and a 10% restocking fee.
Please be sure to double check your shipping address, both that it is correct and that it is able to receive US Mail deliveries.
Also, international shipments require a local telephone number for customs paperwork, include that in the "Note To Seller" field of the order form.

Lack of phone number will delay shipment of the parts.
[Return to the top of this page]
---
11mm bolt - 66mm x 66mm and 77mm x 77mm spacers:
These spacers are larger in diameter to fit the larger bolt patterns (i.e. 2 sets of holes 66mm x 66mm and 77mm x 77mm)and also have the larger 11mm holes and hardware.
Inventory:

Size--------Part Number-----Status
0.75"/19mm - DSpcr-11_0.75 - In-stock
1.00"/25mm - DSpcr-11_1.00 - In-stock
1.25"/32mm - DSpcr-11_1.25 - In-stock
1.50"/38mm - DSpcr-11_1.50 - In-stock

| | | | |
| --- | --- | --- | --- |
| | | | |
| 0.75" 11mm Spacer; US$75.00 | 1.00" 11mm Spacer; US$78.00 | 1.25" 11mm Spacer; US$81.00 | 1.50" 11mm Spacer; US$84.00 |
| US Delivery | US Delivery | US Delivery | US Delivery |
| International Delivery | International Delivery | International Delivery | International Delivery |

Notes:

Your order will be shipped via Priority Mail for domestic (US addresses, including APO/FPO) with a delivery tracking number provided at time of shipment.

2-3 days delivery time typical, expedited shipping available at an additional cost.

International orders will be shipped via US Priority Mail International by default

6-10 days delivery time typical, expedited shipping available at an additional cost.

Unused parts may be returned for a refund, less the cost of postage on the original shipment and a 10% restocking fee.
Please be sure to double check your shipping address, both that it is correct and that it is able to receive US Mail deliveries.
Also, international shipments require a local telephone number for customs paperwork, include that in the "Note To Seller" field of the order form.

Lack of phone number will delay shipment of the parts.

[Return to the top of this page]

---

Exchanges:

If an exchange is desired, please include a note as to what exchange part you want and include return postage for that part to be sent back to you.

Return postage will be be as noted above, typically what the original item shipping was.

If you are in a rush to get the exchanged part, place an order for the new part and we'll ship that to you right away. Then return the old part, and upon receipt, we'll issue a refund against the new order.

Parts may be returned for a refund within 60 days of original purchase.

No need to obtain an RMA number or anything like that.
A 10% restocking fee will be deducted from original purchase price less outgoing shipping.

Parts must be in new and unused condition for the refund.

Used or blemished parts can yield partial refunds at the discretion of 4Crawler Offroad.
Parts that have been modified by the customer or that have been built to unique customer specifications are generally not refundable.
Returned items with missing components will have the refund adjusted for the cost of the missing items (e.g. missing nuts or bolts, etc.)

The customer is responsible for return shipping charges.
Returned parts must include a copy of the original invoice or packing slip for proper credit.
It is highly recommended that a package tracking number be obtained from the shipper and that that number be transmitted to 4Crawler Offroad so that we are aware that you have sent an item back and that we can track it, know when it arrives and can pick it up at our PO box.

If you use the USPS.COM on-line shipping label system, you can get the delivery/tracking number at no additional cost and you can simply enter our e-mail address (sales@4crawler.com) in the recipient field and we'll automatically be sent that information.
If you don't have a tracking number, at least send us an e-mail noting when and how you shipped the package so we can keep an eye out for it to arrive.

One exception to this policy is in the case that the parts do not fit properly, per the installation instructions.

The returned part(s) must be accompanied by photos or a detailed description of the fitment issue.
In such a case 4Crawler Offroad will refund the full purchase price less shipping. And as noted, please furnish a detailed description of the fitment issue reported, including dimensions, so that this fitment issue may be corrected for future orders.

Items returned 60 days or more past the purchase date will be refunded less any applicable transaction fees, typically 4% - 5%.

This time is from the date of purchase until we get our hands on the returned item(s) so we can inspect them for missing parts or damage, so be sure to allow enough time if planning to return an item for a refund.

Items that are custom built to fit customer specifications may only be returned for partial credit at the discretion of 4Crawler Offroad.

Return to:

4Crawler Offroad Products
attn: Roger Brown
PO Box 61092
Sunnyvale, CA. 94088-1092
USA

Physical shipping address can be provided for UPS/Fedex return shipments if requested.

[Return to the top of this page]

---

Installed spacer on transfer case
output flange

Allow approximately 30 minutes for the installation, assuming you don't run into any rusted or damaged fasteners. To remove the stock hardware, you'll need a pair of 14mm wrenches and to install the spacer 10mm hardware, you'll need an 8mm long arm allen key and a 17mm wrench.

While you should not have to separate the drive shaft to install the spacer, it is a good idea to put an alignment mark across both sides of the slip yoke. Some white paint works well and will help you re-align the slip yoke if you accidentally pull it apart.

Typically, the stock drive shaft (a.k.a. propeller shaft) flange bolts use a 14mm head, so you'll need a pair of 14mm combination wrenches to remove those. For the rear drive shaft, block the vehicle's tires or place the rear axle on jack stands for easier removal. You can place the transmission in neutral and release the parking brake if needed.

The spacers can be installed on either the upper or lower end of the drive shaft, depending on application and bolt hole patterns. On 4WD trucks, they are typically installed at the transfer case companion flange. 2WD trucks will only be able to install them at the pinion flange on the axle, but no reason 4WD trucks can't do the same. And it would not be out of the question to install two spacers on one drive shaft if you need to extend it more than 1.5", putting one spacer on each end of the shaft.

Break the stock flange bolts loose at the transfer case and then remove them. Support the drive shaft before removing the last bolt to keep it from falling. Then compress the slip yoke enough to allow insertion of the spacer.

Note:

Some companion (transfer case or differential/pinion) flanges have pressed in studs instead of separate bolts. In this case, you'll need to hammer or press the studs out. You can spin a nut on the end of the stud before hammering it out to protect the threads. The supplied longer bolts will replace the studs.

Then slip the spacer in between the transfer case output flange and the drive shaft flange and turn it to make sure you have the proper set of 4 bolt holes in alignment. Slip in one of the supplied metric socket head cab screws, a lock nut and washer (if needed). Repeat for the other 3 bolt holes, just to make sure all 4 bolts are installed before tightening them. If you find the bolts hard to install, use a small round file to clean out the insides of the holes in the flanges to make installation easier.

For un-drilled spacers, you'll want to use the existing flange to mark the spacer for the location of the new bolt holes. The spacer can be clamped to either the drive shaft or transfer case flange, probably easiest to remove the flange from the transfer case output (30mm staked nut holds it in place) and use that, clamping it to the spacer so it does not move. Select a drill bit that just fits inside the bolt hole or use a transfer punch to mark the hole locations. If you are unsure of your drilling skills, you may elect to mark and drill one hole at a time and then use that freshly drilled hole and a bolt to secure the spacer to the flange for marking and drilling the next hole. Once the hole location is marked, remove the flange and drill out that hole (a drill press works best to ensure a straight hole). Use a bit that is as big as or slightly larger than the hole in the flange. Once all 4 holes are drilled, make sure all 4 bolts fit into the flange, spacer and drive shaft before proceeding. If you find a slight misalignment, you can run your drill bit through the holes to open them up a little bit if needed. For the standard 10mm bolts, you generally want to drill the holes with a 10.5mm bit or a 13/32" or 27/64" drill bit.

Once all 4 bolts are in place, alternately snug them down in a criss-cross pattern.

On the spacers with 10mm hardware, use an 8mm allen key (a long handled key is recommended) and a 17mm wrench (for the nut).
On the spacers with 11mm hardware, use a pair of 16mm (or 5/8") wrenches or a wrench and socket as needed.

Once all 4 nuts are snugged down, torque the nuts to the factory specifications listed in the Factory Service Manual. Lacking that information, you can use approx. 40-45 ft.lbs. (10mm) or 50-60 ft.lbs. (11mm hardware). Be sure to re-check the torque after 50-100 miles of driving. While nylon lock nuts are used with the spacers, you might get a flake of paint or dirt between the shaft and spacer during installation and the bolts will feel tight at that point. But after a while driving, that flake will get crushed and fall apart leaving a tiny gap that can lead to looseness.

[Return to the top of this page]

Questions? --> <-- Comments? email: sales@4Crawler.com

Visitor # 48679 since 05.MAR.2008

[Last updated: 22.December.2016]