a division of Visual Diagnostics LLC
Brake Line Plugs
M10x1.0 inverted flare, male and female

[
Return the the main 4Crawler Offroad page
]

Toyota and other auto makers use an M10x1.0 inverted flare brake line fitting. Unfortunately, this makes it difficult to find fittings and specifically plugs. Brake line plugs can be very handy things to have when working on your vehicle, for emergency trail repairs and for projects such as eliminating the Load Sensing Proportioning Valve (LSPV-BV) . In the latter conversion, you need to plug the tee fitting up front where the LSPV front brake sensing line would normally attach.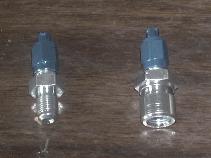 Brake Line Plugs,
Male and female M10x1.0
Pictured above are the two versions of the brake line plugs, the male plug can screw into female threaded fittings such as on the tee fitting for the LSPV bypass project. The female plug on the right will fit over male threaded fittings such as used on the brake hard lines. The fittings also can be used as adapters to attach AN hose/tubing fittings (AN-3 size) to Toyota brakes or to adapt to SAE fittings. Contact us for specifics as we can supply fittings, braided hose and adapters for most common sizes.
[Return to the top of this page]

Our default shipping method is USPS mail and default payment option is Paypal. If you wish to use a different shipping or payment method, please contact us prior to ordering. Let us know the item(s) you want, where and how you'll want them shipped to and we'll get back to you with a shipping quote and purchase information:

NOTE: Beginning 01.Jan.2021, we'll no longer be able to accept orders shipping to the UK via our on-line order system due to the VAT requirements. Click here for alternate ordering options.
It appears New Zealand and Australia are back to normal mail operations...
Plugs available for the male or female thread, for US$20.00 for either style, plus shipping. Both male and female (BrakePlugM, BrakePlugF) plugs are in stock and ready to ship:
Ships in 1st class parcel
| | | |
| --- | --- | --- |
| | | |
| US Shipping | Canada/Mexico shipping | International shipping |
Need one of each, as in one male and one female plug? If so, order a set below and save $5.00 on the set (BrakePlugSet):
| | | |
| --- | --- | --- |
| | | |
| US Shipping | Canada/Mexico shipping | International shipping |
Questions? Contact 4Crawler Offroad for more information.
---
[Return to the top of this page]

Installation just involves screwing the plug onto the mating fitting. You can use some anti-seize compound on the threads if you wish to make later removal easier.
For the LSPV (proportioning valve) bypass/removal project, simply disconnect the front to rear sensing line and use a male plug in the tee fitting up front. You can just leave the old line in place (capped or uncapped) or remove it if so inclined. In back, you can usually disconnect the main brake line from the master cylinder and bend that back to attach to the bracket where the rear axle brake hose connects. Then you can unbolt and remove the LSPV if desired.
[Return to the top of this page]


[Last updated: 05.August.2022 ]
Visitor # 19514 since 28.AUG.2001