Toyota IFS Ball Joint Spacers
Standard 1-1/2" (38mm) height, custom heights available
1986-1995 4WD Pickup/Hilux and 2WD/4WD 4Runner/Hilux Surf
1984-1995 2WD Pickup/Hilux
Also for T100 (1993+)2WD/4WD Pickup/Hilux and 1996+ Hilux 4WD (w/ front torsion bars)
Note: 1983 and earlier pickups have a different front control arm design and these spacers will not fit

Designed and manufactured in the USA by Visual Diagnostics LLC
NOTE: Due to high order volume and supply chain issues, it may take some time for deliveries, production and shipments to catch up. Order backlog could be up to 12 weeks.
[Return to the 4Crawler Offroad Products main page]
---
Toyota 4WD Ball Joint Spacers
1-1/2", 1",1/2" Spacers (L-R)
CNC Machining the spacers
.
4WD Ball Joint Spacer Installed
2WD Ball Joint Spacer Kit
.2WD Ball Joint Spacer and Brace Installed
- Brace can also be installed w/o spacer
These spacers are 1.5"/38mm tall and provide about that much front suspension lift over stock suspension settings as well as that much more overall front suspension travel. Actual front lift height will depend upon the vehicle's weight distribution and current torsion bar condition and adjustment which may be 1.5" more or less than the spacer height. Whether or not you prefer enhanced compression travel for high speed trips through desert washes or a balance between compression and extension travel more suited for rocky trails, these spacers will increase your functionality and ability to custom tailor your suspension characteristics while increasing clearance between the fenders and front wheels. If 1.5" is too tall for your needs, shorter spacers are available on special order. An installed 4WD spacer is shown on the far right hand image, above.
Also available for the 2WD Toyota pickups as shown in the lower right hand image above. In the 2WD suspension, the torsion bar is mounted to the lower control arm, not the upper control arm like in the 4WD suspension. So the 2WD spacers will typically require some torsion bar adjustment to attain a similar lift to the 4WD spacers. But the advantage that the spacers provide over just cranking up the torsion bars is that they provide the additional bump stop clearance so even with the torsion bars set higher, you still get full suspension travel.
When combined with a mild rear suspension lift, either a lift shackle or block or coil spring spacer, and possibly a mild body lift, it is easy and relatively inexpensive to fit 33" tires under an IFS truck. While a full 4" - 6" IFS spacer lift can be installed and will work fine for 33" tires, for less than 1/2 the price and less than half the time and effort, you can install a milder lift that will actually work better than the taller lift. In fitting with the 4Crawler Offroad motto of "lift as much as you need, but as little as possible", why use a 4" - 6" lift when 1.5"-2.5" will work just as well, if not better? With less lift, your center of gravity will be lower, drive line angles will be less, brake lines will usually not need to be extended, and overall there will be less stress on the components.
And if you want all the details, feel free to consult this web page for a detailed discussion of the Toyota IFS front suspension operation.
So apparently the saying "Imitation is the sincerest form of flattery" applies here as well! In fact we have noticed that some of the online auction sellers of Toyota Ball Joint Spacer kits are selling almost exact duplicates of our product and we even know now that they ordered one of our kits and copied it. We say "almost exact duplicates" because they missed one minor, but crucial aspect of the our design in their copy. We mention that difference in the installation instructions, but in order to not make it easy for the competition to find that aspect of the design, we'll not describe it here. But it sure makes it easy to offer low prices when your R&D budget is negligible - as in you steal all your new designs. Oh, and to top it off, they even our plagiarized our installation instructions, nearly verbatim, even down to the punctuation. If these guys were writing these instructions for a college paper, their professor would likely fail them for cheating. Not only that, but as we describe below, these vendors are advertising 2.5" or 3" "lift" spacers, and yet, when you measure their spacers, they are only 1.5" tall. As Clara Peller was so fond of saying, Where's the Beef?" And not only are the spacers not the full advertised height, but we have found that the cast aluminum spacers are also lighter than the billet aluminum used in our spacers. Our CNC machined billet aluminum spacers weigh in at 16 oz. (454 g.) each and a popular cast aluminum spacer off of eBay weighs about 14.1 oz. (400 g). So either those spacers are made of some super light alloy or they have voids in them. Since 6061 aluminum alloy is the most common and lowest cost aluminum alloy and to get lighter you need to add something like magnesium which is twice the cost of aluminum, it is unlikely that these low cost cast spacers are made of some high-tech super light alloy, so in all likelihood they are a porous casting, since air costs nothing and adds no weight. Judging by the rough surface finish of those cast spacers, it is not hard to believe they are full of voids, in the linked image, the cast spacer is on the left next to our CNC billet spacer on the right. Note that our spacers are now put through a tumbled finish to even out the appeareace of the non-machined mill finish top and bottom compared to the fully machined inner and outer faces. But if you look closely, you can still see the fine machining marks. Also, we have heard reports of purchasers of such spacers also finding issues with substandard grade hardware. In fact, we have supplied our replacement hardware for many customers who have experienced failure with these cast spacer kits.
| | |
| --- | --- |
| | |
| 2WD Ball Joint | 4WD (pre-runner) Ball Joint |
In Other Words "Which Ball Joint Spacer do I need for my truck?"
In short, you'll want to look at the type of front suspension/ball joint is used on your vehicle (see the above two photos for the two types of front torsion bar suspensions that Toyota used). If you have a 4WD truck, the answer is simple, you need the 4WD spacer.
However, if you have a 2WD truck, then the answer is a little more involved. The 4WD spacers also work with 2WD trucks with "pre-runner" type suspensions. A pre-runner suspension is essentially the same as a 4WD suspension with the front drive train (differential and CV axles/half shafts) removed. This would include of the 2WD 4Runner and some T-100 models. Typically also fit the 1996 and later Toyota Hilux 4WD pickup models (non-US) that use the same torsion bar front suspension with matching ball joints (check dimensions below to verify proper bolt hole spacing).
The 2WD spacers are available for the earlier 2WD pickups and some 2WD T-100s (i.e. pre-Tacoma).
Which type to order? Compare the photos above with your truck's upper ball joint to find which type matches the shape of your vehicle's upper ball joint.
On the "2WD" ball joints, you'll note the inner pair of bolts holding the upper ball joint in place are wider apart (~3-1/2" - 90mm) than the outer pair of bolts (~2-7/8" - 75mm).

The spacers are 4-5/16" long (front-back dimension as installed) and 1=15/16" wide (left-right dimension as installed).
On the 2WD ball joints, the ball joint itself essentially hangs off the end of the upper control arm (UCA).

On the "4WD" ball joints, the inner pair of bolts is closer together (~2-3/8" - 60mm) than the outer pair of bolts (~3-1/4" - 82mm).

The spacers are 4-1/32" long (front-back dimension as installed) and 3-5/32" wide (left-right dimension as installed).
The 4WD ball joint sits inside the end of the UCA.
And the ball joint spacers of of course not applicable if your vehicle has had a "solid axle swap" (or SAS) where the front IFS suspension has been removed and a leaf or coil sprung solid front axle has been added on.
4Crawler Offroad assumes the buyer to be the final manufacturer of his or her vehicle. Use this product at your own risk. 4Crawler Offroad assumes no responsibility for any damages of any conceivable sort to anything caused or not caused by this product.
The user is responsible for ensuring shock fitment.
Some cutting and/or grinding will be required to install these spacers, consult the installation notes for details.
Tires on rims with the stock backspacing of 4.75" might have tire rubbing issues with 31" or smaller tires on the 4WD models.

For 2WD, measure clearance to the wheels and tires and compare with the desired new wheel/tire combination.
This is dependent on tire geometry, most clear but a few don't.
This can be often be remedied by filing/trimming the end of the a-arm lip and/or using a wheel with less backspacing.

A 1/4" wheel spacer is also an option for fitting stock wheels with clearance issues.
You can also fit wider adapters that bolt onto the hub and then have 6 lug studs for mounting the wheel

Rims with 4.5" or less of backspacing clear all tires known so far.

Spacers are CNC machined billet 6061-T6 aluminum.
Hardware consists of M8-1.25 class 12.9 socket head cap screws, class 10 flanged nylock nuts, and flat washers.

Use of Loctite on hardware is not necessary when using a nylock jam nut but can be used if desired.

Either stock extension bump-stops or shimmed bump-stops (low profile only) are required with this spacers in order control max droop angles. Failure to do so could result in damage to CV joints or other components.
A front end alignment after installation of this product

The spacers, by their very nature, will push the wheels outward at the top, changing the camber angle.
This camber change will affect the "toe in" adjustment.
Both the camber angle and toe will need to be restored to factory specification with a proper alignment after installing the spacers.
But once aligned, you should not need more frequent alignments with the ball joint spacers installed.
[
Return to the top of this page...
]
---
Our default shipping method is USPS mail and default payment option is Paypal. If you wish to use a different shipping or payment method, please contact us prior to ordering. Let us know the item(s) you want, where and how you'll want them shipped to and we'll get back to you with a shipping quote and purchase information:

NOTE: Beginning 01.Jan.2021, we'll no longer be able to accept orders shipping to the UK via our on-line order system due to the VAT requirements. Click here for alternate ordering options.
It appears New Zealand and Australia are back to normal mail operations...
CNC billet aluminum spacers and laser cut steel braces - Made in the USA:
One pair is enough for one vehicle.
Both kits include eight (8) extended length, grade 12.9 metric allen head mounting hardware for easy installation
Also available: Custom Height 2WD and 4WD ball joint spacers...
Shipping:
Shipping weight 3 lbs. per pair.
[
Return to the top of this page...
---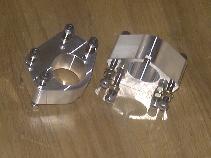 1 Pair 4WD Ball Joint Spacers,
- Priority/US only
1 Pair 4WD Ball Joint Spacers,
- Express/US only
=============================
=============================
1 Pair 4WD Ball Joint Spacers,
- Canada Delivery
1 Pair 4WD Ball Joint Spacers,
- Int'l Delivery
Return to the top of this page...
]
---
Now available for the 2WD applications are both the ball joint spacers as well as a heavy duty brace for the upper A-arm. Larger tires and off-road use puts stress on the upper control arms. This can cause the outer end of the control arms to fatigue. These braces strengthen that area eliminating the problem. They are made from 1/4" (6mm) thick steel, available in bare steel, etching primer or cold galvanize primer finish. These are recommended for any 2wd truck that sees off-road use or will be running wheels/tires significantly larger than stock. The A-arm brace can be used with the stock A-arms or with the addition of the ball joint spacers. For stock arms, check to see you have enough exposed thread on the ball joint studs to fit the brace on top. If your studs are not long enough, you can use 8mm bolts to replace the studs. If you can't get bolts, you can order stock length replacement hardware.
Online ordering:
Cost:
2WD Ball Joint Spacer US$79.00 for a pair with mounting hardware
The A-arm brace alone costs US$49.00 for a pair with mounting hardware, bare finish
Combine the braces with a pair of 1.5" tall 2WD ball joint spacers for US$124.00, bare finish
Add US$5.00/pr. for etching primer or cold galvanize primer finish on the UCA braces
| | |
| --- | --- |
| | |
| A: 2WD Ball Joint Spacers | B: 2WD A-Arm Brace |
| | |
| C: 2WD Brace + Ball Joint Spacer | D: Brace + Spacer Installed |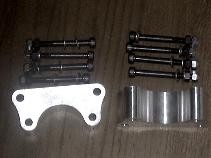 1 Pair 2WD Ball Joint Spacers,
- Priority/US only
1 Pair 2WD Ball Joint Spacers,
- Express/US only
=============================
=============================
1 Pair 2WD Ball Joint Spacers,
- Canada Delivery
1 Pair 2WD Ball Joint Spacers,
- Int'l Delivery
Note: The upper control arm braces add no lift, they are for reinforcing the upper control arm. They can be used with or without the 2WD ball joint spacers.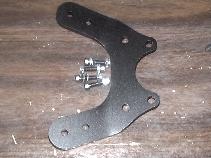 1 brace shown, kit includes 1 pair, i.e. 1 brace for each side.
| | | | |
| --- | --- | --- | --- |
| | | | |
| US Priority | US Express | Canada Priority | Int'l Priority |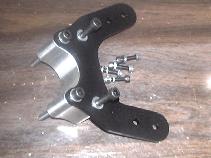 1 spacer/brace shown, kit includes 1 pair or 2 spacers/braces
| | | | |
| --- | --- | --- | --- |
| | | | |
| US Priority | US Express | Canada Priority | Int'l Priority |
Return to the top of this page...
]
---
In the 4WD spacers, heights of 3/4" or less may lessen or eliminate the amount of metal trimming of the upper control arm needed to install the spacers.
For the custom height spacers (i.e for heights less than 1.5"), cost is $99.00/pr. (4WD or 2WD) to cover the custom machining and hardware. Allow 1-2 weeks for custom machining. Spacers will include longer hardware (h/w) for the height of the spacer, i.e. the Normal h/w option (i.e. height of spacer equals length of hardware).
If requested, we can supply extra long hardware to accommodate stacking these new spacers on to of an existing ball joint spacer. So for example, if you already have 1.5" ball joint spacers and wish to add another 0.5" spacer on top of that, order that height spacer and select the Extra Long h/w + 1.50in. option when ordering. We can't guarantee these stacked spacers will work on any given vehicle, as noted here, but you are welcome to try. We have had some customers who have had good success with this. Note that this Extra Long hardware option is only available for 0.5" and 0.75" tall spacers.
The custom height spacer height will be within approx. 1/16" of the specified height.
Click here to request additional information...
Custom height Ball Joint Spacers (#BJSpcrCH) made to order
| | | | |
| --- | --- | --- | --- |
| | | | |
| US Priority | US Express | Canada Delivery | Int'l Delivery |
[
Return to the top of this page...
]
---
Return to the top of this page...
]
[Last updated: 24.August.2023 ]
Visitor # 293489 since 12.APR.2009
E-mail
Sales@4Crawler.com
for more information...
[Return to the main 4Crawler Offroad product page]